PACO/Grundfos Pumps - a division of Grundfos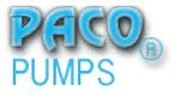 Since 1907, PACO Pumps has been servicing the needs for fluid movement through their commitment and focus on the pumping needs of users in all markets. They manufacture the world's most complete lines of end suction, in-line, split case, non-clog, sump pumps, special purpose pumps, and pumping systems. Multistage inline pumps, E-pumps, SS pumps, Integrated variable speed pumping systems, Boosterpaq domestic water pumping systems, circulators, sump/sewage & waste water pumps. GES specialized custom boiler, chiller pumping systems enclosed with fabricated house enclosures.
Each PACO product is designed for low life cycle costs. Through innovative technology, advanced design criteria and proper matching of the pump selection to the specific requirements of our customer?s needs, assuring that each facet of a pumps life cycle cost are kept low---from initial and installation costs through operating and maintenance costs. PACO operates under ISO 9001 registration and the Hydraulics Institutes Standards. Selected products are certified or approved by UL, FM, and ETL. PACO water pumps can be certified to NSF/ANSI Standards 50 or 61, as appropriate.
PACO/Grundfos Pumps - a division of Grundfos Products: